This week was a bit frustrating. We met with another real estate agent, and his outlook on selling our house was - to be expected - just as bleak as every else's. Now, we're considering renting instead of selling. This is relieving in some ways, since selling was going to cost us money, but renting brings with it its own set of challenges.
However, my feelings of frustration - they are relative.
I have so much to be thankful for.
My sweet husband

-
who let me order the new bedding I was drooling over in
this post
.
who helping me completely rearrange our bedroom furniture on
a
my whim on Wednesday night.
who cleaned the floors for me while I went to Target on Thursday night, referring to himself as my "house husband."
who picked up dinner for us when I didn't feel like cooking.
My sister
-
who dropped some skinny jeans in the mail for me to try on because they were too small for my nephew - just for fun.
(Sidenote: I so wanted these jeans to fit because I thought it would be fun to say, "Oh these old new things? My sister picked them up in the men's department at TJMaxx for $7." Sadly, when I put them on and couldn't get them anywhere close to buttoned (despite the waist size being 3 inches larger than the jeans I own), I realized there was probably a good reason they were marked as irregular and still on the clearance rack.)
My house

-
which regardless of whether we sell or rent is cool inside despite 100 degree days.
has a pantry and refrigerator with plenty inside.
is wireless, DVRed and all those other technological wonders I take for granted.
My dog
-
who we've decided is the living epitome of Dug, from the movie Up
(The Hubs cries when he watches Up.)
who is willing to go for a walk(!) or a car ride(!) or pay outside(!) or do tricks(!) anytime.
My health
(I'll admit that the stress I'm self-imposing is doing a number on my scalp and skin (something I'm used to, it's been the case for many years)
but -
it's good. And my husband's is good. And my parents'.
(Although, I would definitely appreciate any natural tips for combatting dry scalp, and MILD ezcema/psorasis.)
And I could go on, but I won't (and can't, because I'm technically working right now!).
I'm thankful for all these favorites today.

(And linking up with Rachel at Finding Joy.)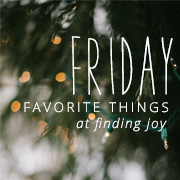 Also, on a super "blog geek" sidenote: I definitely got my first "comment response" from Sherry at Younghouselove.com this week. Umm - I freaked out, and I also did a screen grab for posterity.