This is my first Miscellany Monday. I feel like I know
the host
, as she and I share quite a few non-blogland friends. Also, her blog is pretty great.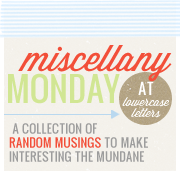 1. Friday Night Cupcakes
On Friday night, the hubs and I had a lazy night at home. However, before settling in for the evening, we drove downtown and bought four little mounds of deliciousness to eat while watching a movie.
I love Cupcake. There is one in my hometown and two in the general vicinity of my adopted city. Mine was Pumpkin Spice, and the hubs had a Chocolate Tuxedo and a Red Velvet. (I saved my Vanilla one for Saturday.) When we were younger, my friend and I had a fantastic idea to open a cupcake bakery. I promise we came up with the idea first, but sadly we never executed in it (ha!).
2. Dust Woes
I think our parents had the right idea when they purchased lighter wood tones. I know the trend is "mocha", "cappuccino," and any number of other woods for "dark brown." It looks pretty. It does. But I cannot keep the visible dust off of our dark wood furniture for more than 20 minutes before I see it again. Any ideas?
3. Purple Heart
We have been working diligently to make our front flower bed something more than the "contractor's special." Last year, my parents gave us five small purple heart plants to put in the bed. (You see purple heart in the large planters outside of the lovely homes in downtown Charleston.) My mother warned me that it was hardy and capable of spreading quickly. Just to test the theory, I threw a one stem in the back corner of our bed, and sure enough it grew. In fact, it didn't even die off during the winter. We went outside yesterday to do some weeding, and I couldn't help but take a picture.
4. Marathon Update
I mentioned a few weeks ago that my dad and my husband were running the Myrtle Beach Marathon. They both finished! My dad finished in 4:08, and Brandon in 4:17. 26.2 miles! My mom and I were super proud, and we got some good girl time in while they were running. The weather was fantastic for us spectators.
5. Green Ginger
(image via)
I remain obsessed with this tea. They used to sell it at Starbucks, but they did a tea overhaul a few months ago, and now I only find it at Publix or online. Buy it; it's wonderful.
Happy Monday!